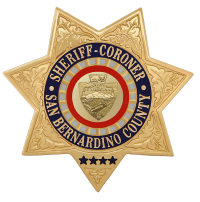 San Bernardino County Sheriff's Department
Press Release
DATE/TIME: December 12, 2017, at 4:33 am UPDATE: December 13, 2017, 2:00pm
INCIDENT: Homicide Investigation
LOCATION: 5800 block of Merito Avenue, San Bernardino
VICTIM: Terrance Cook, 60 years old, resident of San Bernardino
SUSPECT: Name withheld at this time
Summary
On Tuesday, December 12, 2017, at approximately 4:33 am, deputies from the Central Sheriff's Station responded to the 5800 block of Merito Avenue in San Bernardino, following the report of a stabbing at the location. Upon arrival, deputies located Terrance Cook inside the residence suffering from apparent stab wound(s). Emergency medical personnel responded and transported Cook to a local area hospital. At 5:28 a.m., Cook was pronounced deceased.
Detectives from the Specialized Investigations Division, Homicide Detail, responded to the location and conducted the investigation. Detectives interviewed witnesses and processed the crime scene. During the investigation, detectives determined Cook broke into the house. Cook attacked one of the residents with a weapon and threatened to kill him. The resident defended himself and was aided by a second resident at the location. During the fight, Cook suffered sharp force injuries and blunt force trauma.
The investigation is on-going; updates will be provided as new information becomes available. An autopsy will be conducted to determine manner and cause of death.
Anyone with information regarding this incident is urged to contact Detective Brendan Motley or Sergeant Greg Myler at (909)387-3589. Callers wishing to remain anonymous are urged to call the We-Tip Hotline at 1-800-78-CRIME (27463), or you may leave information on the We-Tip website at www.wetip.com.
Refer: Detective Brendan Motley or Sergeant Greg Myler
Station: Specialized Investigations Division – Homicide Detail
Phone No. (909) 387-3589
Case No. DR #011703535 H #2017-118
John McMahon, Sheriff-Coroner
San Bernardino County Sheriff-Coroner Department
Sheriff's Public Affairs Division
655 E. Third Street
San Bernardino, California 92415-0061
Telephone: (909) 387-3700