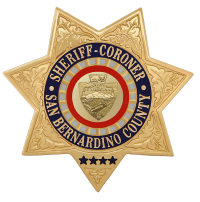 San Bernardino County Sheriff's Department
Press Release
DATE/TIME: Saturday, October 28, 2017, at about 3:00 p.m.
INCIDENT: Hoist Rescue
LOCATION: Powder Keg Rock Climbing Area, Big Bear
VICTIM: Cody Kammerlan, 33 years old, resident of San Marcos
Summary
On Saturday, October 28, 2017, Cody Kammerlan went rocking climbing with friends in the Powder Keg Rock Climbing area. While climbing a large boulder, Kammerlan fell approximately 20' and sustained serious injuries. Friends of Kammerlan's called 911 for help.
At about 3:00 p.m., 40 King 3 and Air Rescue 06 responded to the area. Upon locating Kammerlan, who was being assisted by San Bernardino County Fire personnel, it was determined Kammerlan would have to be hoisted into Air Rescue 06 due to the steep rugged terrain that wasn't accessible by emergency vehicles.
At approximately 3:25 p.m., Air Rescue 06 conducted the hoist rescue of Kammerlan. Kammerlan was transported to local area trauma center where he was treated for serious injuries.
Refer: Deputy J. Roberg
Station: Aviation Unit
Phone No. (909) 252-4100
Case No. BDC #17-115540
John McMahon, Sheriff-Coroner
San Bernardino County Sheriff-Coroner Department
Sheriff's Public Affairs Division
655 E. Third Street
San Bernardino, California 92415-0061
Telephone: (909) 387-3700