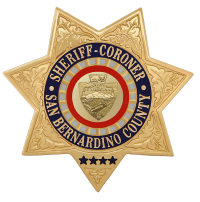 San Bernardino County Sheriff's Department
Press Release
DATE/TIME: January 12, 2017 8:40 pm
INCIDENT: PC 245, Assault with a Deadly Weapon, PC 18720 Manufacture an Explosive Device
LOCATION: 22000 Block of Mojave River Road, Cedarpines Park
SUSPECT: Timothy Almeroth, 56-year-old resident of Cedarpines Park
Summary
On January 12, 2017 at approximately 8:40 pm, the Twin Peaks Sheriff's Station received several calls of gun shots and explosion sounds coming from the 22000 block of Mojave River Road, in the community of Cedarpines Park. Multiple neighbors reported the loud bangs in the area and were concerned. While deputies were on their way to the call, neighbors discovered Almeroth was lighting off explosives and fireworks. Almeroth became confrontational with the neighbors when they asked him to stop lighting fireworks. Almeroth struck one of the neighbors on the hand with a large flashlight during the incident. After striking the victim and realizing deputies were on their way, Almeroth went into his residence.
Deputies Mascetti and Perez arrived on scene and contacted Almeroth inside his home. While talking to Almeroth about the incident, Deputy Perez observed a large quantity of explosive making components inside the residence. Due to the explosives being in the home, Deputy Mascetti notified the San Bernardino County Sheriff's Bomb and Arson Division. Detectives from the Bomb and Arson Division responded to the scene and a search warrant was authored for Almeroth's residence to seize the explosive components and the flashlight used in the assault. Deputies and detectives recovered over 56 pounds of liquid ammonium nitrate and other substances used for explosive manufacturing.
Almeroth was arrested and booked into the West Valley Detention Center for PC 245(a)(1), Assault with a Deadly Weapon and PC 18720, Manufacturing an Explosive Device. His bail was set at $150,000.
Anyone with information about the case should contact the Twin Peaks Sheriff's Station at (909) 336-0600. Callers wishing to remain anonymous are urged to call the We-Tip Hotline at 1-800-78-CRIME (27463) or you may leave information on the We-Tip Hotline at www.wetip.com.
Refer:Deputy Mascetti
Station: Twin Peaks
Case #: 051700066
Phone No. 909-336-0600
John McMahon, Sheriff-Coroner
San Bernardino County Sheriff-Coroner Department
Sheriff's Public Affairs Division
655 E. Third Street
San Bernardino, California 92415-0061
Telephone: (909) 387-3700