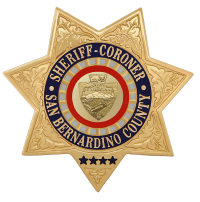 San Bernardino County Sheriff's Department
Press Release
DATE/TIME: October 4, 2017 10:55 am
INCIDENT: Felon in Possession of Ammunition
LOCATION: 100 Block of Grizzly Road, Lake Arrowhead
SUSPECT(S): Mark Kirk, 54-year-old resident of Lake Arrowhead
Rick Wilks, 48-year-old resident of Lake Arrowhead
Summary
On Wednesday October 4, 2017, Deputy Jonathan Cavender of the Twin Peaks Station's Multi Enforcement Team (MET) authored a search warrant for a residence located in the 100 block of Grizzly Road in the community of Lake Arrowhead. At approximately 10:55 am, deputies from MET, Twin Peaks Station detectives and members of the San Bernardino County Sheriff's Department Valley Gang Team served the search at the residence. During the service of the search warrant, deputies contacted Mark Kirk and Rick Wilks inside the residence.
While searching the residence, deputies located over 1,400 rounds of high velocity ammunition along with a replica assault rifle and drug paraphernalia. Kirk and Wilks are both convicted felons and are prohibited from owning or possessing ammunition. Wilks is also currently on felony probation for HS 11366, Maintaining or Operating a Drug House.
Wilks and Kirk were both arrested for violation of PC 30305(a) (1), Felon in Possession of Ammunition. Additionally, Wilks was arrested for violating the terms of his probation. Both were booked into the Central Detention Center in San Bernardino. Wilks is currently being held without bail. On October 5, 2017, Kirk was released from jail on his own recognizance.
The case will be submitted to the San Bernardino County District Attorney's office for review.
If you have any information regarding this case, please contact Deputy Jonathan Cavender or Deputy Jason Mascetti at the Twin Peaks Station, (909) 336-0600or WeTip 1-800-78-CRIME.
Refer: Deputies Jonathan Cavender and Jason Mascetti or Public Information Officer Gil Flores
Station: Twin Peaks Sheriff's Station
Case #: 051701653
Phone No. (909) 336-0600
John McMahon, Sheriff-Coroner
San Bernardino County Sheriff-Coroner Department
Sheriff's Public Affairs Division
655 E. Third Street
San Bernardino, California 92415-0061
Telephone: (909) 387-3700