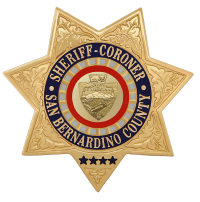 San Bernardino County Sheriff's Department
Press Release
DATE/TIME: October 31, 2017 3:50pm
INCIDENT: Halloween PC 290 Compliance Checks
LOCATION: 2800 Block of View Drive, Running Springs
SUSPECT(S): Paul Madison, 31-year-old resident of Running Springs
VICTIM(S): People of the State of California
Summary
On October 31, 2017, at approximately 3:00 pm, deputies from the Twin Peaks Station's Multi Enforcement Team (MET) and members from the San Bernardino County Probation Department conducted a mountain wide sex offender compliance check. Deputies and Probation Officers contacted numerous sex registrants from the Twin Peaks and Big Bear jurisdictions. During the service of the compliance checks, Deputy Cavender contacted Paul Madison at his residence in the Community of Running Springs.
Madison is currently on probation for violation of PC 288.2(a), Distributing Pornography to a Minor. As a result, Madison is required to register as a sex offender and adhere to conditions of his probation. Deputy Cavander and Probation Officer Sandra Morris determined Madison was in violation of his probation. Madison was arrested and booked into the Central Detention Center.The case will be submitted to the San Bernardino County District Attorney's office for review.
If you have any information regarding this case, please contact Deputy Jonathan Cavender at the Twin Peaks Station, (909) 336-0600 or WeTip 1-800-78-CRIME.
Refer: Deputy Jonathan Cavender or Public Information Officer Gil Flores
Station: Twin Peaks
Phone No. 909-336-0600
John McMahon, Sheriff-Coroner
San Bernardino County Sheriff-Coroner Department
Sheriff's Public Affairs Division
655 E. Third Street
San Bernardino, California 92415-0061
Telephone: (909) 387-3700