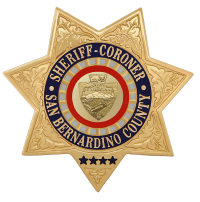 San Bernardino County Sheriff's Department
Press Release
DATE/TIME: October 10, 2017 6:38pm
INCIDENT: PC 288(A) Lewd Acts with a Child Under 14 years old
LOCATION: 26000 block of Valley View Drive, Rim Forest
SUSPECT: Jose Galvan-Casas, 39-year-old, resident of Rim Forest
VICTIM: 17-year-old female
Summary
On Wednesday July 19, 2017, at approximately 4:30 p.m., Deputy Swanson from the Twin Peaks Station responded to the front counter in reference to a sexual assault call. The victim told Deputy Swanson about several incidents where Jose Galvan-Casas inappropriately touched her. The victim was between the ages of 12 and 14 years old when the touching occurred. The victim was afraid to tell anyone about the abuse when it was occurring. The victim came forward about the incidents to her parents after the family moved out of state and away from Galvan-Casas. The incident was reported out of state to a law enforcement agency, however there is no record that the report was received for continued investigation.
Deputy Swanson documented the victim's statements and began her investigation.
On Tuesday, October 10, 2017 at approximately 6:38 p.m., Deputy Swanson contacted and interviewed Jose Galvan-Casas at the Twin Peaks Station. After completing her interview and investigation, Deputy Swanson determined Galvan-Casas was in violation of PC 288(A), Lewd and Lascivious Acts with a Child under 14 years old. Galvan-Casas was arrested and booked into the West Valley Detention Center. He is being held in lieu of $250,000.00 bail.
Investigators believes there may be more victims who were inappropriately touched by Galvan-Casas. If you have any information regarding this case, or have been a victim please contact Deputy Swanson at the Twin Peaks Station, (909) 336-0600 or WeTip at 1-800-78-CRIME.
Refer: Public Information Officer Gilbert Flores
Station: Twin Peaks Station
Case #: 051701156
Phone No. 909-336-0600
John McMahon, Sheriff-Coroner
San Bernardino County Sheriff-Coroner Department
Sheriff's Public Affairs Division
655 E. Third Street
San Bernardino, California 92415-0061
Telephone: (909) 387-3700