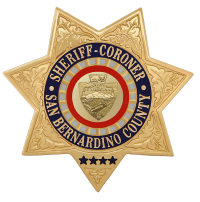 San Bernardino County Sheriff's Department
Press Release
DATE/TIME: November 25, 2017 12:12 a.m. **UPDATE**
INCIDENT: Assault with a Deadly Weapon / Deputy Involved Shooting
LOCATION: Phelan Rd. / Sunny Vista Rd., Phelan
VICTIM: Deputy Sheriff – assigned to Victor Valley Station
SUSPECT: Jeremy Lambourne, 37 years old, resident of Phelan
Summary
**UPDATE/ARREST**
On December 28, 2017, information from an informant indicated the suspect in this case was Jeremy Lambourne. Detectives from the San Bernardino County Sheriff Department's Specialized Enforcement Division(SED), surveilled a residence on Sunset Road in Pinion Hills. SED members contacted and detained Jeremy Lambourne at the residence. Detectives from the Sheriff Department's Specialized Investigations Division interviewed Lambourne and at the conclusion of the interview, Lambourne was arrested and booked into the High Desert Detention Center for assault with a deadly weapon on a police officer.
SUMMARY:
On Saturday, November 25, 2017 at 12:12 a.m. a deputy made a traffic stop on an older white Ford sedan in the area of Phelan Rd. and Sunny Vista Rd. As the deputy approached the vehicle to make contact with the driver, the driver shifted into reverse and accelerated toward the deputy. The deputy fired at the vehicle and the driver changed direction and fled. The deputy began pursuing the vehicle, but lost the vehicle when he collided with a dirt berm.
It is unknown if the vehicle or driver was struck by gunfire.
Specialized Investigators responded and conducted the investigation.
The driver is described as a white male wearing a hat.
Anyone with information regarding this investigation is urged to contact Sheriff's Homicide Detail, Detective Brian Chambers at (909)387-3589. Callers wishing to remain anonymous are urged to call the We-tip Hotline at 1-800-78-CRIME (27463) or you may leave information on the We-Tip Hotline at www.wetip.com.
Refer: Detective Brian Chambers or Sergeant Jerry Davenport
Station: Specialized Investigations Division – Homicide Detail
Phone No. (909)387-3589
Case No. 071703744 H#2017-112
John McMahon, Sheriff-Coroner
San Bernardino County Sheriff-Coroner Department
Sheriff's Public Affairs Division
655 E. Third Street
San Bernardino, California 92415-0061
Telephone: (909) 387-3700