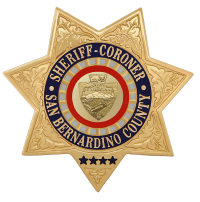 San Bernardino County Sheriff's Department
Press Release
DATE/TIME OF INCIDENT: Wednesday, September 6, 2017 at 5:15 am
INCIDENT: Attempted Murder
LOCATION:35000 block of Indian Trail, Helendale
SUSPECT: Cory David Bowman, 32-year-old resident of Helendale
Summary
On Wednesday, September 6, 2017, at approximately at 5:15 am, Sheriff's Dispatch received a report of a shooting in the 35000 block of Indian Trail in Helendale.
Deputies and detectives from Victor Valley Sheriff's Station, along with deputies from Barstow Sheriff's Station, responded to the call and began an investigation. The victim left the location prior to the arrival of deputies, but later arrived at Victor Valley Global Hospital in Victorville and was flown to Arrowhead Regional Medical Center for treatment of two gunshot wounds. The victim's injuries were non-life threatening and is in stable condition.
The investigation revealed the shooting victim entered Cory David Bowman's residence and was shot by Bowman with a .22 caliber handgun. Bowman was arrested and booked at the High Desert Detention Center on a charge of attempted murder. Bowman is currently being held in lieu of $1,000,000 bail.
Anyone with information regarding this case is urged to contact Detective Marion Browne at the Victor Valley Sheriff's Station, (760) 552-6801. Persons wishing to remain anonymous can report information to We-Tip by calling 1-800-78-CRIME, or by accessing the website at www.wetip.com.
Refer: Pamela Hoffman
Station: Victor Valley
Report # 071702820
Phone No: 760-552-6845
John McMahon, Sheriff-Coroner
San Bernardino County Sheriff-Coroner Department
Sheriff's Public Affairs Division
655 E. Third Street
San Bernardino, California 92415-0061
Telephone: (909) 387-3700