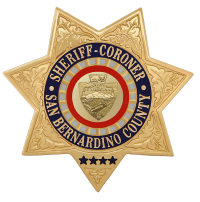 San Bernardino County Sheriff's Department
Press Release
DATE/TIME: October 2, 2017, at about 7:05 p.m.
INCIDENT: ATTEMPTED MURDER / ASSAULT ON A PEACE OFFICER
LOCATION: 35700 Block of Rosewood Street in Lucerne Valley
SUSPECT: Jeffrey Ryan Gilbert, 44-year old male adult, resident of Lucerne Valley
Summary
On Monday, October 2, 2017 at approximately 7:05 p.m., deputies from the Victor Valley Station were dispatched to a call of an assault on the 35700 block of Rosewood Street in Lucerne Valley. As deputies were responding to the call for service, Sheriff's Dispatch aired the suspect's physical description.
Deputy Jeremy Weaver responded to the call for service and located Jeffrey Gilbert. Gilbert was walking on the shoulder of Highway 18 near the victim's residence and matched the description given by the victim. Gilbert fled on foot as Deputy Weaver made contact with him. Deputy Weaver caught Gilbert and tried to handcuff him. Gilbert resisted arrest and assaulted Weaver. A bystander witnessed the deputy being assaulted by Gilbert and stopped to assist. Gilbert continued to fight the deputy and the citizen for several minutes. Upon the second deputy's arrival, Gilbert was taken into custody.
Through the investigation, it was determined Gilbert assaulted and burglarized the victim. The victim suffered major injuries and was airlifted to a local trauma center. The victim is in stable condition and recovering from the injuries sustained from the assault.
Gilbert was booked at High Desert Detention Center, and his bail was set at $1,100,000.00.
On Thursday, October 4, 2017, the San Bernardino County District Attorney's -Victorville Office filed felony charges of attempted murder, burglary and assault on a peace officer against Gilbert.
Anyone with information regarding this crime is urged to contact Detective William Doemner at the Lucerne Valley Substation at (760) 248-7655. Persons wishing to remain anonymous can report information to WeTip by calling 1-800-78-CRIME, or by accessing the website at www.wetip.com.
Refer: Pamela Hoffman
Station: Victor Valley
Report # 071703145
Phone No: 760-552-6844
John McMahon, Sheriff-Coroner
San Bernardino County Sheriff-Coroner Department
Sheriff's Public Affairs Division
655 E. Third Street
San Bernardino, California 92415-0061
Telephone: (909) 387-3700