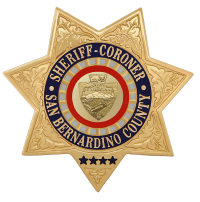 San Bernardino County Sheriff's Department
Press Release
DATE/TIME: January 24, 2017
INCIDENT: Corporal Injury to a Child
SUSPECT: Jose Alfonso Sanchez Arias, 56 years old, of Lucerne Valley
Summary
On Tuesday, January 17, 2017, deputies were dispatched to a report of a child abuse at Lucerne Valley High School. The victim had reported to school personnel they had been assaulted on January 15th by a parent.
Deputy Steven Scranton responded to the school and made contact with the victim. Deputy Scranton learned the victim was engaged in a verbal argument with their father which turned physical. Once the disagreement became physical Jose Alfonso Sanchez Arias, the father of the victim, punched the victim in the face. Deputy Scranton attempted to locate the suspect on the date of the report but was unable to find him.
On Monday, January 23, 2017 the suspect came to the Sheriff's station to talk with Deputy Scranton. Jose Arias was arrested at the station for corporal injury to a child and was transported to High Desert Detention Center. On Tuesday, January 24, 2017 the Victorville District Attorney's office filed misdemeanor charges against Arias, who remains in custody. Arias is being held in lieu of $100,000 bail.
Anyone with information regarding this incident is urged to contact Deputy Steven Scranton at Lucerne Valley Sheriff's Station at (760) 248-7655. Persons wishing to remain anonymous can report information to WeTip by calling 1-800-78-CRIME, or by accessing the website at www.wetip.com
Refer: Pamela Hoffman
Case #:071700211
Station: Victor Valley
Phone No:760-552-6844
John McMahon, Sheriff-Coroner
San Bernardino County Sheriff-Coroner Department
Sheriff's Public Affairs Division
655 E. Third Street
San Bernardino, California 92415-0061
Telephone: (909) 387-3700