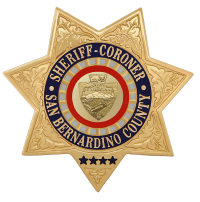 San Bernardino County Sheriff's Department
Press Release
DATE/TIME: Thursday, March 16, 2017
INCIDENT: Death Investigation
LOCATION: State Hwy. 138/1 mile east of I-15 Freeway
VICTIM: Unidentified Hispanic male adult
Summary
On Thursday, March 16, 2017 at 7:11 a.m. a commuter was traveling on State Hwy. 138, east of the I-15 freeway, when they saw what appeared to be a body about 50 feet off the roadway. The commuter contacted dispatch and when deputies arrived they located a deceased Hispanic male adult.
Sheriff's Homicide Detectives responded to conduct the investigation.
Detectives found no obvious sign of trauma to the body. An autopsy will be conducted to determine the cause of death. Additionally, the Coroner will positively identify the victim and make the necessary notifications.
Anyone with information regarding this investigation is urged to contact the Homicide Detail, Detective Gary Hart at (909)387-3589. Callers wishing to remain anonymous are urged to call the We-tip Hotline at 1-800-78-CRIME (27463) or you may leave information on the We-Tip Hotline at www.wetip.com.
Refer: Detective Gary Hart or Sergeant Dave Johnson
Station: Specialized Investigations Division – Homicide Detail
Phone No. (909)387-3589
Case No. DR#071700934H#2017-30
John McMahon, Sheriff-Coroner
San Bernardino County Sheriff-Coroner Department
Sheriff's Public Affairs Division
655 E. Third Street
San Bernardino, California 92415-0061
Telephone: (909) 387-3700