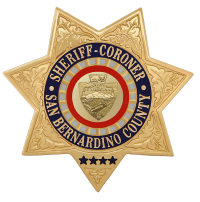 San Bernardino County Sheriff's Department
Press Release
Date/Time:  March 13, 2017 / 9:00 a.m.
Incident:  Donuts With a Cop
Location:  Oro Grande Elementary School
Summary
On Monday, March 13, 2017, Deputy Katie Merrill, who is assigned as the Victor Valley Station's Juvenile Officer took donuts to Oro Grande Elementary School for "Donuts With a Deputy". 
Deputy Merrill was at the school for a presentation on staying
away from drugs. This presentation was geared to children in Transitional Kindergarten and Kindergarten classes. Deputy Merrill had fun interacting with and teaching the students who attended the event.
After the presentation, students were encouraged to ask questions.
Deputy Merrill answered questions about law enforcement jobs but mostly students wanted to know what her favorite donut is. She was even asked how many she likes to eat daily.
The children were encouraged to stay away from drugs and were
taught that law enforcement personnel are there to help them. Students were presented with a junior deputy sticker at the end of the presentation as well.
Station: Victor Valley Station
Refer: Pamela Hoffman
Re: Donuts With a Deputy
Phone No: 760-552-6844
John McMahon, Sheriff-Coroner
San Bernardino County Sheriff-Coroner Department
Sheriff's Public Affairs Division
655 E. Third Street
San Bernardino, California 92415-0061
Telephone: (909) 387-3700