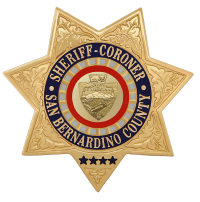 San Bernardino County Sheriff's Department
Press Release
DATE/TIME: Tuesday, October 10, 2017, at 2:20 pm
INCIDENT: Kidnapping to Commit Rape/Rape by Force or Fear/Sodomy by Force or Fear/Human Trafficking
LOCATION: 15350 Roy Rogers Drive, Victorville
SUSPECTS: Andre Winn (male), 47 years old, of Adelanto
Victoria Cantey, 19 years old, of Adelanto
Summary
On Tuesday, October 10, 2017, at approximately 2:20 pm, San Bernardino County Sheriff's Dispatch received a 911 call from Winco on Roy Rodgers Drive in Victorville. According to an employee inside the store, a female told them she had been kidnapped, and the suspect(s) were outside the store in a vehicle. Deputies immediately responded and detained the male and female suspects, identified as Andre Winn and Victoria Cantey, inside a white van as they attempted to leave the parking lot.
Through a subsequent investigation by detectives from the Victor Valley Sheriff's Station and the San Bernardino County Sheriff's Departments Human Trafficking Task Force it was learned the female adult victim, and Andre Winn first met through the social media site Tagged and they agreed to meet in Compton. At that point, an alleged sexual assault occurred. Winn then drove the victim to a residence in Adelanto where Victoria Cantey was and sexually assaulted her again.
Detectives went to a residence in the 18900 block of Bellflower Street where the victim said she was held against her will by Winn and Cantey. During a search warrant, detectives located evidence corroborating the victim's allegations.
Andre Winn and Victoria Cantey were both arrested without incident and booked into the High Desert Detention Center. Andre Winn was found to be on probation out of Los Angeles County and is being held on $1,000,000.00 bail. Victoria Cantey was booked and is being held in lieu of $100,000.00. bail.
Anyone with information regarding this crime is urged to contact Detective Scott Chapdelaine at the Victor Valley Sheriff's Station, (760) 552-6801. Persons wishing to remain anonymous can report information to WeTip by calling 1-800-78-CRIME(27463), or by accessing the website at www.wetip.com.
Refer: Staci Parks
Station: Victor Valley
Report # 241702853
Phone No: 760-552-6845
John McMahon, Sheriff-Coroner
San Bernardino County Sheriff-Coroner Department
Sheriff's Public Affairs Division
655 E. Third Street
San Bernardino, California 92415-0061
Telephone: (909) 387-3700