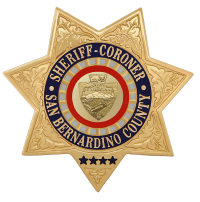 San Bernardino County Sheriff's Department
Press Release
DATE/TIME: January 8, 2017 at 8:20 p.m.
INCIDENT: Felony Assault with a Firearm, Discharging Firearm in Negligent Manner
SUSPECT: Raia Nittianandan, 44 years old, of Apple Valley
Summary
On Sunday, January 8, 2017, at approximately 8:20 pm, deputies from the Victor Valley Sheriff's Station responded to a report of a man with a gun with assistance from the Apple Valley Sheriff's Station.
Deputies Jeffrey Henry, David Moyer, Ron Conley and Thomas Gates arrived at the location and learned there had been a disturbance when the suspect, Raia Nittianandan, was prevented from driving off the property due to his intoxication level. The subject who refused to let Nittianandan drive fought with him over his keys to the vehicle and then left the property. Nittianandan was then seen with a handgun and was heard to have made threats towards the subject who prevented him from driving, before firing the weapon towards a tree on the property. The victim in this case returned to the property some time later to pick up his belongings and another altercation ensued. During the altercation, Nittianandan threatened the victim while pointing the gun at him.
Raia Nittianandan was arrested on charges of assault with a firearm and discharging a firearm in a negligent manner. Nittianandan was transported to High Desert Detention Center where he is being held in lieu of $50,000 bail.
Anyone with information regarding this incident is asked to contact Deputy Jeffrey Henry at the Victor Valley Sheriff's Lucerne Valley Substation at (760) 248-7655. Person's wishing to remain anonymous may report information to WeTip by calling 1-800-78-CRIME, or going to the website www.wetip.com.
Refer: Pamela Hoffman
Case #: 071700090
Station: Victor Valley
Phone No: 760-552-6844
John McMahon, Sheriff-Coroner
San Bernardino County Sheriff-Coroner Department
Sheriff's Public Affairs Division
655 E. Third Street
San Bernardino, California 92415-0061
Telephone: (909) 387-3700