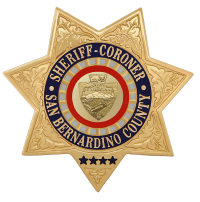 San Bernardino County Sheriff's Department
Press Release
DATE OF INCIDENT: September 13, 2017
INCIDENT: Enforcement to combat panhandling and loitering
LOCATION: Adelanto Market Place
Summary
In an ongoing effort to ensure the safety of citizens patronizing the Adelanto Market Place, on September 13, 2017, deputies from the Victor Valley Sheriff's Station worked in conjunction with security personnel from Stater Bros. Market to conduct an enforcement operation.
As a result of this operation, 9 pedestrians were contacted, 4 traffic stops were made, 3 vehicle checks were conducted, and 3 arrests were made.
Citizens have the right to feel safe in the community they live and do business. If you are approached by subjects in a parking lot and feel uncomfortable, call 911 or your local law enforcement agency. Always remember to have your car keys in your hand while walking to or from your vehicle, keep your purse close to you, and never lay your purse or wallet in the shopping cart. Always be aware of your surroundings, do not walk while distracted on your cell phone, and if out at night walk in lighted areas. Criminals watch for someone who is distracted or unaware of their surroundings.
Anyone with questions regarding this operation are urged to contact Detective Osvaldo Pelayes at Victor Valley Sheriff's Station, (760) 552-6801. Persons wishing to remain anonymous can report information to We-Tip by calling 1-800-78-CRIME, or by accessing the website at www.wetip.com.
Refer: Staci Parks
Station: Victor Valley
Phone No: 760-552-6845
John McMahon, Sheriff-Coroner
San Bernardino County Sheriff-Coroner Department
Sheriff's Public Affairs Division
655 E. Third Street
San Bernardino, California 92415-0061
Telephone: (909) 387-3700