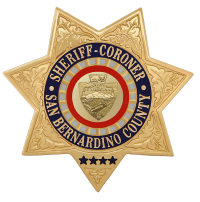 San Bernardino County Sheriff's Department
Press Release
DATE/TIME OF ARREST: March 29, 2017 6:00pm
INCIDENT: POSSESSION OF STOLEN PROPERTY SUSPECT: Robert Vansurksum, 44 years old, of Phelan
Summary
**UPDATE**
On Tuesday, April 4, 2017, at approximately 10:22 am deputies from the San Bernardino County Sheriff's Department Rural Crime Task Force and SANCATT served a search warrant at Vansurksum's residence located in the 13400 block of Nevada Road in the community of Phelan.
During the service of the search warrant, a dump trailer with an altered VIN and an assault weapon were recovered. Vansurksum was arrested and booked into the High Desert Detention Center on charges of possession of an assault weapon. Vansurksum posted bail and has been released from custody.
On Wednesday, March 29, 2017, Deputies Rob Oakleaf and Randy Stanley from the Sheriff's Rural Crime Task Force recovered a stolen Caterpillar skid steer valued at $38,000.
The Rural Crime Task Force, who is assigned to the Victor Valley Station with a county wide responsibility, acts as a law enforcement liaison to the construction industry. Deputies Oakleaf and Stanley worked with Atkinson Construction Company to develop leads on the stolen skid steer. The skid steer was stolen March 18, 2017, from a job site on the 10 Freeway in West Covina. Deputies located the skid steer at a residence on the 13000 block of Nevada Rd. in Phelan and contacted Robert Vansurksum who claimed to be the owner of the skid steer. Although identifying information had been removed from the equipment, the Deputies were able to verify it was the stolen skid steer from Atkinson Construction.    Robert Vansurksum was booked at the High Desert Detention Center. He is currently out on bond.    Anyone with information regarding this crime is urged to contact Deputies Rob Oakleaf or Randy Stanley at the Victor Valley Sheriff's Station, (760) 552-6801. Persons wishing to remain anonymous can report information to WeTip by calling 1-800-78-CRIME, or by accessing the website at www.wetip.com.   Refer: Staci Parks Case #: 071701078 Station: Victor Valley Phone No: 760-552-6844    
John McMahon, Sheriff-Coroner
San Bernardino County Sheriff-Coroner Department
Sheriff's Public Affairs Division
655 E. Third Street
San Bernardino, California 92415-0061
Telephone: (909) 387-3700