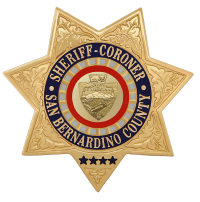 San Bernardino County Sheriff's Department
Press Release
DATE/TIME OF INCIDENT: Wednesday, September 6, 2017 at 4:13 pm
INCIDENT: Robbery/ Resisting Executive Officer
LOCATION:13300 block of Ranchero Rd
SUSPECT: Darrell Fowler, 56-year-old resident of San Bernardino
Summary
On Wednesday, September 6, 2017, at approximately at 4:13 pm, deputies from Victor Valley Sheriff's Station were dispatched to a report of a robbery at "Puff N Pass" in the 13300 block of Ranchero Rd.
Deputy Coby Fox responded to the call and learned an unknown female suspect had stolen merchandise from the business. The investigation revealed Darrell Fowler and the female suspect arrived together and entered Puff N Pass. Fowler distracted the store clerk while the female stole two Hookah Pipes and ran to a waiting car. The store manager chased the female and was assaulted in the parking lot.
An off-duty San Bernardino County Sheriff's Deputy witnessed the suspect fighting with the manager and identified herself. The suspect, Darrell Fowler, approached the off-duty deputy from behind. The deputy turned around and identified herself a second time. Fowler cursed at the deputy and stepped toward her. The deputy ordered him to stay back. The deputy showed Fowler her badge and identified herself again. Fowler punched the deputy on her arms. Additional deputies arrived and Fowler was detained. The female suspect fled during the confrontation between the deputy and Fowler.
Darrell Fowler was arrested on charges of robbery and resisting an executive officer. Fowler was booked at High Desert Detention Center where he is currently being held in lieu of $100,000 bail.
Anyone with information regarding this case is urged to contact Deputy Coby Fox at the Victor Valley Sheriff's Phelan Sub-station, (760) 868-1006. Persons wishing to remain anonymous can report information to WeTip by calling 1-800-78-CRIME, or by accessing the website at www.wetip.com.
Refer: Pamela Hoffman
Station: Victor Valley
Report # 071702828
Phone No: 760-552-6845
John McMahon, Sheriff-Coroner
San Bernardino County Sheriff-Coroner Department
Sheriff's Public Affairs Division
655 E. Third Street
San Bernardino, California 92415-0061
Telephone: (909) 387-3700