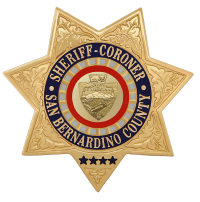 San Bernardino County Sheriff's Department
Press Release
DATE: February 14, 2017
INCIDENT: Suspect Wanted for Vehicle Theft
SUSPECT: Joshua Scott Ales, age 37 
Summary
UPDATE: Joshua Scott Ales was arrested in Cabazon by Riverside County Sheriff's Department.Ales was driving a stolen vehicle at the time of his arrest.He is currently in custody at High Desert Detention Center in lieu of $50,000,000.00 bail.
The Victor Valley Sheriff's Station is asking the public's assistance in locating Joshua Scott Ales. Ales is described as a white male adult, 37 years of age, 6'0" tall, weighing approximately 200 pounds with brown hair and brown eyes. Ales has a tattoo of a cross on his right shoulder, RIP Cody on his right forearm and Criminal on his chest and right wrist, "IE" is also tattooed on his chest. Ales has a nickname and is known to some as "Kriminal"
Joshua Ales is suspected of, and wanted for question in several vehicle thefts throughout the Phelan and Pinon Hills area. He is known to stay in vacant houses with various friends. Ales currently has a $50,000.00 Ramey arrest warrant for PC 496D(a) Possession of a Stolen Vehicle.
Anyone with information regarding the whereabouts of Ales is urged to contact the Detective Bureau of the Victor Valley Sheriff's Station/Phelan sub-station (760) 868-1006 or Sheriff's Dispatch at (760) 956-5104. Callers wishing to remain anonymous are urged to contact the We-Tip Hotline at 1-800-78-CRIME (27463) or www.wetip.com
Booking photo available at: https://local.nixle.com/alert/5850903/
Refer: Detective Scott Chapdelain
Station: Victor Valley Sheriff's Station
Phone No.: (760) 868-1006
John McMahon, Sheriff-Coroner
San Bernardino County Sheriff-Coroner Department
Sheriff's Public Affairs Division
655 E. Third Street
San Bernardino, California 92415-0061
Telephone: (909) 387-3700