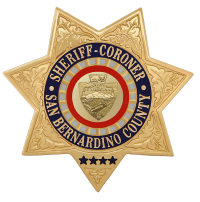 San Bernardino County Sheriff's Department
Press Release
DATE/TIME: Tuesday, September 26, 2017
INCIDENT: THC Extraction Lab
LOCATION: 6933 Thrush Street, Oak Hills
SUSPECT(S): Eric Baren, age 53
Brian Pardo, age 38 both residents of Oak Hills
Summary
On Tuesday, September 26th, investigators from the Special Enforcement Division were at the residence conducting an investigation when they discovered a THC extraction lab.
Personnel from the Sheriff's Marijuana Enforcement Team (MET) were contacted and responded to the scene and assumed the investigation. Investigators confirmed a THC lab, utilizing butane for the extraction process. Investigators seized evidence related to the THC lab which included 35 lbs. of marijuana, approximately 700 grams of concentrated cannabis (THC), 94 marijuana plants, and $3,900.00 in U.S. currency.
The THC extraction process is extremely dangerous and has a high potential for explosion and fire, due to the use of highly flammable butane. This chemical extraction process is illegal and is a violation of California's Health and Safety Code. Wax, Butane Honey Oil (BHO) and other forms of concentrated cannabis are the end product of THC extraction process. No method of THC extraction utilizing butane is safe, to include the so-called "Closed Loop Process." Butane is considered a volatile substance which vaporizes into an invisible airborne gas and is commonly used by marijuana manufacturers to extract THC from marijuana plant material. The danger and probability of fire, explosion, severe injury and death resulting from the volatile THC extraction process serve as a reminder as to why no one should ever attempt this method, and it should not be permitted or allowed in any of our communities.
This investigation is ongoing and will be forwarded to the San Bernardino District Attorney's Office for a review of criminal charges. Suspects, Brian Pardo and Eric Baren, were arrested and booked for Manufacturing A Controlled Substance, with the possibility of additional charges after the review.
Refer: Sheriff's Public Affairs
Station:
Phone No. (909) 387-3700
Case No. 651700250
John McMahon, Sheriff-Coroner
San Bernardino County Sheriff-Coroner Department
Sheriff's Public Affairs Division
655 E. Third Street
San Bernardino, California 92415-0061
Telephone: (909) 387-3700