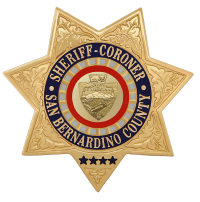 San Bernardino County Sheriff's Department
Press Release
DATE/TIME: February 21, 2017/4:00 p.m.
INCIDENT: Vicious Dog Attack / Shooting of a Dog
LOCATION: 14500 block of Anacapa Road, County area of Victorville
Summary
On Tuesday, February 21, 2017, at approximately 3:58 pm San Bernardino County Sheriff's Dispatch received a call of a subject being attacked by two dogs in an alley.
Deputy Hamilton responded to the location and found two subjects being attacked by dogs. As Deputy Hamilton approached one dog fled and the other dog continued to growl and behave aggressively toward him and the victims. Deputy Hamilton was temporarily able to direct the animal away from the crowd using his baton. However, the dog again became aggressive, and it became necessary for Deputy Hamilton to shoot the dog to prevent the further attack on the victim's and to allow the victims to be treated by medical personnel. The other dog was captured the following day and released to animal control.
The victim was treated for severe injuries to the face, arms and head. He was transported to a local hospital and then transported via helicopter to Arrowhead Regional Medical Center.
Anyone with information regarding this incident is asked to contact Deputy Hamilton at the Victor Valley Sheriff's Station at (760) 552-6801. Persons wishing to remain anonymous may report information to WeTip at 800-78-CRIME (27463) or by accessing WeTip's website at www.wetip.com.
Station:Victor Valley Station
Refer:Pamela Hoffman
Re:071700661
Phone No:760-552-6844
John McMahon, Sheriff-Coroner
San Bernardino County Sheriff-Coroner Department
Sheriff's Public Affairs Division
655 E. Third Street
San Bernardino, California 92415-0061
Telephone: (909) 387-3700