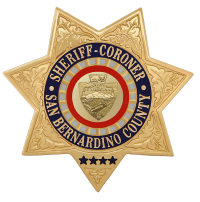 San Bernardino County Sheriff's Department
Press Release
DATE/TIME: October 12, 2017 / 11:42 a.m.
INCIDENT: Possession of Stolen Property, Robbery
LOCATION: 16000 block of Zenda Street
SUSPECT(S): 17-year old, Male Juvenile
VICTIM(S): Confidential
Summary
On October 12, 2017, Deputy R. Ripley, from the Victorville Police Department, responded to a residence in the 16600 block of Zenda Street for a reported theft.
The victim met with a 17-year old male to sell a game system they had advertised on the internet application, Offer Up. The suspect took the system inside his residence to test it and never came out. Being concerned for their safety, the victim did not attempt to contact the suspect at the residence and called law enforcement.
Through investigation, Deputy Ripley discovered the suspect had an Offer Up account and was attempting to sell other property he had stolen using similar methods. Ripley, with the assistance of Deputy D. Manker and the Victorville Police Department's Gang Team, located and detained the suspect, discovering he was currently on probation. The suspect was in possession of the stolen game system and other stolen property. During a search of the suspects residence deputies recovered additional stolen property.
The recovered property was returned to the owners. The suspect was arrested and booked at High Desert Juvenile Detention Center for possession of stolen property and robbery.
Anyone with information about this investigation is asked to contact the Victorville Police Department at (760) 241-2911. Callers wishing to remain anonymous are urged to call the We-Tip Hotline at 1-800-78CRIME (27463) or you may leave information on the We-Tip website at www.wetip.com.
Refer: Deputy R. Ripley/Mara Rodriguez, Media Relations Officer
Station: Victorville Police Department
Phone No. (760) 241-2911
Case No. 171712414
John McMahon, Sheriff-Coroner
San Bernardino County Sheriff-Coroner Department
Sheriff's Public Affairs Division
655 E. Third Street
San Bernardino, California 92415-0061
Telephone: (909) 387-3700