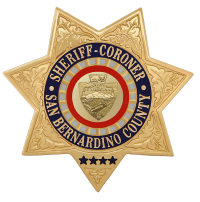 San Bernardino County Sheriff's Department
Press Release
DATE/TIME: Friday, October 13, 2017 12:53 a.m.
INCIDENT: Homicide Investigation
LOCATION: 15700 Sueno Ln., Victorville
VICTIM: Veda Mims, 46, resident of Victorville
SUSPECT: Saul Ricks, 45, a resident of Victorville
SUMMARY: UPDATE: Wednesday, October 18, 2017
Summary
During the investigation, detectives learned the victim, Veda Mims, was fatally assaulted inside of her apartment. Mims' boyfriend, Saul Ricks, was determined to be the suspect. Homicide investigators requested the assistance of the Sheriff's Specialized Enforcement Detail (SED). SED personnel determined Ricks had fled to Oklahoma City. SED personnel contacted the United States Marshalls Fugitive Task Force in Oklahoma who located Ricks and took him into custody on October 18th. On Friday, October 20th, Ricks was transported back to San Bernardino County where he will face charges for the murder of Mims.
Anyone with information is urged to contact the Homicide Detail, Detective Walter Peraza at (909)387-3589. Callers wishing to remain anonymous can call the We-tip Hotline at 1-800-78-CRIME (27463) or leave information on the We-Tip Hotline at www.wetip.com
************
On Friday, October 13, 2017, at 12:53 a.m. deputies responded to the Sueno Ln. location in response to a family member requesting a welfare check. The caller said her sister had recently moved to the area and she had not heard from her in several days. She also said it was out of character for her sister not to call. Deputies arrived and made entry, and they found Veda Mims deceased inside the home.
Specialized Investigators from the Homicide Detail are conducting a death investigation. Details related to the investigation are not being released at this time.
The Coroner will conduct an autopsy to determine the cause of death.
Refer: Detective Walter Peraza or Sergeant Robert Warrick
Station: Specialized Investigations Division – Homicide Detail
Phone No. (909) 387-3589
Case No. DR#171712456 H#2017-98
John McMahon, Sheriff-Coroner
San Bernardino County Sheriff-Coroner Department
Sheriff's Public Affairs Division
655 E. Third Street
San Bernardino, California 92415-0061
Telephone: (909) 387-3700