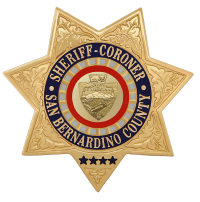 San Bernardino County Sheriff's Department
Press Release
DATE/TIME: March 17, 2017 / 7:27 a.m. 
INCIDENT: Assault with a Deadly Weapon, Robbery
LOCATION: 13600 block of Hamlet Court
SUSPECT(S): Shanon Djon Hill Jr., 23 year old Victorville resident
VICTIM(S): Confidential: 19 year old male 
Summary
On March 17, 2017, deputies from the Victorville Police Department responded to the 13600 block of Hamlet Court for a reported assault. The reporting party said his 19 year old, developmentally disabled, son had been attacked by his neighbor. The suspect, Shanon Hill attached the victim with an unknown object, striking him in the face. The suspect then stole the victim's cell phone and basketball before leaving the location. 
  
The suspect fled the area prior to deputies arriving. The victim was transported to a local hospital for treatment of facial wounds.
   
Deputies are seeking the public's help in locating the suspect. Hill has black hair, brown eyes, is 5'08" tall, and weighs approximately 158 pounds.
  
Anyone with information about this investigation is asked to contact the Victorville Police Department at (760) 241-2911. Callers wishing to remain anonymous are urged to call the We-Tip Hotline at 1-800-78CRIME (27463) or you may leave information on the We-Tip website at www.wetip.com.
  
Booking photo available at: https://local.nixle.com/alert/5880217/
  
Refer: Mara Rodriguez, Media Relations Officer
Station: Victorville Police Department
Case #: 171703241
Phone No. (760) 241-2911 
John McMahon, Sheriff-Coroner
San Bernardino County Sheriff-Coroner Department
Sheriff's Public Affairs Division
655 E. Third Street
San Bernardino, California 92415-0061
Telephone: (909) 387-3700