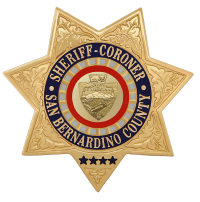 San Bernardino County Sheriff's Department
Press Release
DATE/TIME: March 1, 2017 / 5:00 p.m.
INCIDENT: Critical Missing Person
LOCATION: Victorville, Green Tree Blvd.
VICTIM: Brandon Womack
Summary
Brandan Womack was last seen on March 1, 2017, at approx. 5:00 p.m. in Victorville. Womack was wearing sunglasses, a blue sweater with yellow writing on the back (pictured above), and green and blue swim trunks. Womack was driving a 2002 Silver Honda Civic, with California license plate number 4YPM726. 
DESCRIPTION:
SEX:     Male
RACE:  Black
AGE:    28
WT:      140
HAIR:   Black
EYES:  Brown
SMTO: Beard
            Tattoos: ninja on stomach, skull/bones on right arm, racecar w Snoopy on left forearm
To view the photos:
https://local.nixle.com/alert/5864745/
Anyone with information on the whereabouts of Brandan Womack is asked to contact the Victorville Police Department at (760) 241-2911.
John McMahon, Sheriff-Coroner
San Bernardino County Sheriff-Coroner Department
Sheriff's Public Affairs Division
655 E. Third Street
San Bernardino, California 92415-0061
Telephone: (909) 387-3700