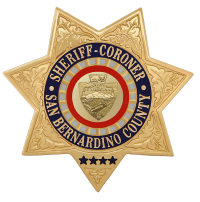 San Bernardino County Sheriff's Department
Press Release
DATE/TIME: Sunday, March 19, 20176:08 a.m.
INCIDENT: Death Investigation
LOCATION: 13520 3rd Avenue, Victorville
VICTIM: 3-year-old female
Summary
On Sunday, March 19, 2017 at 6:08 a.m., Victorville deputies responded to a 911 call of a child unresponsive and not breathing. Deputies arrived, along with medical aid and pronounced the child deceased at the scene.
Sheriff's Specialized Detectives responded to conduct the investigation.
An autopsy will be conducted to determine the cause of death.
No additional information is available for release at this time. Updates will be issued as new information becomes available.
Anyone with information regarding this investigation is urged to contact the Specialized Investigations Division, Detective Adam Salsberry at (909)387-3589. Callers wishing to remain anonymous are urged to call the We-tip Hotline at 1-800-78-CRIME (27463) or you may leave information on the We-Tip Hotline at www.wetip.com.
Refer: Detective Adam Salsberry or Sergeant Robert Warrick
Station: Specialized Investigations Division
Phone No. (909)387-3589
Case No. DR#171703320H#2017-31
John McMahon, Sheriff-Coroner
San Bernardino County Sheriff-Coroner Department
Sheriff's Public Affairs Division
655 E. Third Street
San Bernardino, California 92415-0061
Telephone: (909) 387-3700