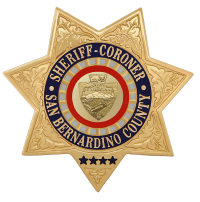 San Bernardino County Sheriff's Department
Press Release
DATE/TIME: March 17, 2017 / 11:18 p.m.
INCIDENT: Failure to Yield, Carrying a Loaded Firearm, Felon in Possession of a Firearm/Ammunition LOCATION: Amethyst and Luna Roads SUSPECT(S): Anthony Moore, 45 year old Victorville resident 
Summary
On March 17, 2017, Deputy B. Walsh, from the Victorville Police Department, attempted to conduct a traffic stop on a 2002 Chevy Tahoe. The driver of the Tahoe, Anthony Moore, failed to stop at the posted stop sign at Luna and Amethyst, prompting the traffic stop.
The suspect failed to yield to Deputy Walsh, who had activated his patrol unit lights and sirens. He continued driving, running stop signs and a red light, for approximately four miles before finally stopping the vehicle near US Highway 395 and Bear Valley Road. Once stopped, the suspect did not comply with the orders given by deputies on scene. A deputy deployed his Taser and he was taken into custody. While conducting a search, deputies recovered a loaded firearm from the vehicle.   Anthony Moore was arrested and booked at High Desert Detention Center for failure to yield, carrying a loaded firearm and being a felon in possession of a firearm and ammunition. He is scheduled to appear in Victorville Superior Court on March 21, 2017.   Anyone with information about this investigation is asked to contact the Victorville Police Department at (760) 241-2911. Callers wishing to remain anonymous are urged to call the We-Tip Hotline at 1-800-78CRIME (27463) or you may leave information on the We-Tip website at www.wetip.com.   Refer: Mara Rodriguez, Media Relations Officer Station: Victorville Police Department Case #: 171703278 Phone No. (760) 241-2911
John McMahon, Sheriff-Coroner
San Bernardino County Sheriff-Coroner Department
Sheriff's Public Affairs Division
655 E. Third Street
San Bernardino, California 92415-0061
Telephone: (909) 387-3700