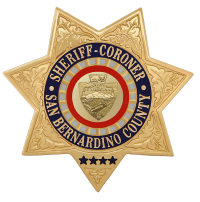 San Bernardino County Sheriff's Department
Press Release
DATE/TIME: September 29, 2017 / 10:59 p.m.
INCIDENT: Fatal Traffic Collision
LOCATION: Hook Boulevard and Amargosa Road
Summary
On Thursday, September 28, 2017, deputies from the Victorville Police Department and rescue personnel from the San Bernardino County Fire Department responded to a vehicle versus pedestrian traffic collision, at the intersection of Hook Boulevard and Amargosa Road.
Deputies determined a gray Toyota Camry was traveling east on Hook Boulevard near Amargosa Road. Two pedestrians were crossing Hook Boulevard and were struck by the Camry.
One of the pedestrians was pronounced deceased at the scene, the other pedestrian was transported to the hospital by ambulance. The driver of the Toyota was treated by medical personnel and released at the scene.
Victorville Police Department's, Major Accident Investigation Team (MAIT) are investigating the collision, the cause of the collision is unknown at this time. Hook Boulevard and Amargosa Road were closed during the investigation, and were reopened at approximately 4:35 a.m.
Anyone with information about this investigation is asked to contact Deputy Chris DeKeyrel or Deputy Jeff Dean at the Victorville Police Department, (760) 241-2911. Callers wishing to remain anonymous are urged to call the We-Tip Hotline at 1-800-78 CRIME (27463) or you may leave information on the We-Tip website at www.wetip.com.
Refer: Deputy Chris DeKeyrel / Deputy Jeff Dean
Station: Victorville Police Department
Case #: 171711878
Phone No. (760) 241-2911
John McMahon, Sheriff-Coroner
San Bernardino County Sheriff-Coroner Department
Sheriff's Public Affairs Division
655 E. Third Street
San Bernardino, California 92415-0061
Telephone: (909) 387-3700