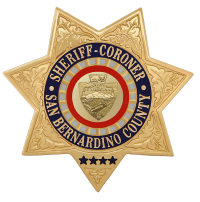 San Bernardino County Sheriff's Department
Press Release
DATE/TIME: December 28, 2017 / 7:02 p.m.
INCIDENT: Fatal Traffic Collision
LOCATION: US Hwy 395/ Eucalyptus Street, Victorville
DRIVER: Brandon Blakely, 30 years old, resident of Victorville
Summary
On Thursday, December 28, 2017 at about 7:02 p.m., Deputies from the Victorville Station and rescue personnel from the San Bernardino County Fire Department responded to a single vehicle traffic collision near the intersection of US Hwy 395 and Eucalyptus Street. Upon arrival Deputies determined that a Burgundy Mercury Mariner was traveling north on US Hwy 395 and attempted to pass a big rig on the dirt shoulder. The driver of the Mercury lost control of the vehicle, causing the vehicle to overturn and roll multiple times. Two subjects were ejected from the vehicle during the collision.
One ejected occupant was pronounced deceased on scene and the other was transported by ground ambulance to Loma Linda University Medical Center. Three other occupants of the vehicle were transported to Loma Linda University Medical Center and other surrounding hospitals with moderate to major injuries.
The driver of the Mercury Mariner, later identified as Brandon Blakely, fled the scene of the collision and was located by deputies a short time later at his residence. Blakely was taken into custody and booked on multiple felony charges.
MAIT Investigators are continuing the investigation into the collision and the cause. US Hwy 395 between Bear Valley Road and Main Street was closed during the investigation and was reopened at about 4:40 a.m.
Anyone with information or anyone who may have witnessed the collision is urged to contact Deputy Adam Hylin, Deputy Chris Dekeyrel or Deputy Amir Awad from the Victorville Station.
Refer: Deputies Adam Hylin, Chris Dekeyrel, Amir Awad
Station: Victorville City
Phone No: (760) 241-2911
Case No. 171715481
John McMahon, Sheriff-Coroner
San Bernardino County Sheriff-Coroner Department
Sheriff's Public Affairs Division
655 E. Third Street
San Bernardino, California 92415-0061
Telephone: (909) 387-3700