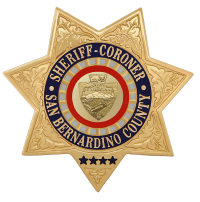 San Bernardino County Sheriff's Department
Press Release
DATE/TIME: October 28, 2017 / 10:00pm
INCIDENT: Fatal Traffic Collision
LOCATION: Cantina Road/Osprey Lane
SUSPECT(S): Confidential, pending next of kin
Summary
On Saturday, October 28, 2017, at approximately 10:00 pm, Deputies from the Victorville Police Department and rescue personnel from the San Bernardino County Fire Department responded to a traffic collision involving two vehicles. A compact vehicle was traveling north on Cantina Drive when the driver lost control for unknown reasons and collided with an unoccupied, semi-truck parked at the location.
Deputies and rescue personnel rendered aid to the ejected driver at the scene. However, he succumbed to his injuries and was pronounced deceased at 10:16 pm.
Deputies with the Victorville Police Department's Major Accident Investigation Team (MAIT) are conducting an investigation to determine the cause of the collision. Cantina Road was closed between Osprey and Luna Road, reopening at approximately 5:00 am.
Anyone with information about this investigation is asked to contact Deputy Alejandro Ramos or Deputy Chris DeKeyrel at the Victorville Police Department, (760) 241-2911. Callers wishing to remain anonymous are urged to call the We-Tip Hotline at 1-800-78CRIME (27463), or you may leave information on the We-Tip website at www.wetip.com.
Refer: Deputy Alejandro Ramos / Mara Rodriguez, Media Relations Officer
Station: Victorville Police Department
Case #: 171713092
Phone No. (760) 241-2911
John McMahon, Sheriff-Coroner
San Bernardino County Sheriff-Coroner Department
Sheriff's Public Affairs Division
655 E. Third Street
San Bernardino, California 92415-0061
Telephone: (909) 387-3700