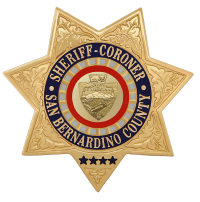 San Bernardino County Sheriff's Department
Press Release
DATE/TIME: Wednesday, March 15, 20178:26 p.m.
INCIDENT: Murder Investigation
LOCATION: South/West corner of Hook Park, Victorville
VICTIM:        Rosa Tejada, 35 years old, resident of Victorville
SUSPECT: Walter Gonzalez Maravilla, 25 years old, Transient
Summary
UPDATE:
On Thursday, March 16, 2017 at 12:30 p.m. the victim was positively identified as Rosa Tejada of Victorville.
On Wednesday, March 15, 2017 at 8:26 p.m. deputies responded to reports of a male beating a female in the parking lot of Hook Park. Deputies arrived and quickly made contact with the male as he was attempting to leave the area. Medical aid responded and pronounced the victim dead at the scene.
Sheriff's Homicide Detectives responded to conduct the investigation. Detectives spoke to several witnesses and determined that Maravilla and the victim went to Hook Park on Wednesday evening and Maravilla began assaulting her until she appeared to be unconscious. He then he got into the victim's vehicle and drove over her body. Maravilla then began driving away from the scene when he was stopped and detained by responding deputies. Detectives also determined that Walter Maravilla and the victim had been involved in an inconsistent boyfriend/girlfriend relationship.
Maravilla was taken into custody without incident and booked at High Desert Detention Center for Murder.
Anyone with information regarding this investigation is urged to contact Detective Troy Mooradian, Sheriff's Homicide Detail, at (909)387-3589. Callers wishing to remain anonymous are urged to call the We-tip Hotline at 1-800-78-CRIME (27463) or you may leave information on the We-Tip Hotline at www.wetip.com.
Refer: Detective Troy Mooradian or Sergeant Robert Warrick
Station: Specialized Investigations Division – Homicide Detail
Phone No. (909)387-3589
Case No. 171703185H#2017-28
John McMahon, Sheriff-Coroner
San Bernardino County Sheriff-Coroner Department
Sheriff's Public Affairs Division
655 E. Third Street
San Bernardino, California 92415-0061
Telephone: (909) 387-3700