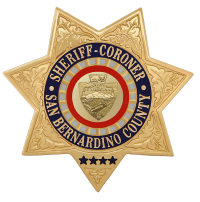 San Bernardino County Sheriff's Department
Press Release
DATE/TIME: Monday, November 27, 2017 10:06 a.m.
INCIDENT: Murder Investigation
LOCATION: 12600 block of Cedar Lane, Spring Valley Lake
VICTIM: Victor Rosales, 66 years old, resident of Spring Valley Lake
SUSPECT: Mark Fuller, 39 years old, resident of Spring Valley Lake
Summary
On Monday, November 27, 2017 at 10:06 a.m. deputies responded to the Cedar Lane home following a report from a neighbor that the homeowner had been assaulted. Deputies arrived and found the victim suffering from obvious upper body trauma. The victim was transported to a local hospital where he was pronounced dead at 11:03 a.m.
Sheriff's Homicide Investigators responded to conduct the investigation. Investigators determined that the victim's step-son, identified as Mark Fuller, was likely the last person he had contact with and they began searching for Fuller. Late Monday afternoon, Investigators located Fuller near Deep Creek and took him into custody without incident.
An autopsy will be conducted to determine the exact cause of death. Details regarding the motive are not being released at this time.
Mark Fuller was booked for Murder at High Desert Detention Center and is being held without bail.
Anyone with information regarding this investigation is urged to contact the Homicide Detail, Detective Chuck Phillips at (909)387-3589. Callers wishing to remain anonymous are urged to call the We-tip Hotline at 1-800-78-CRIME (27463) or you may leave information on the We-Tip Hotline at www.wetip.com.
Refer: Detective Chuck Phillips or Sergeant John Gaffney
Station: Specialized Investigations Division – Homicide Detail
Phone No. (909)387-3589
Case No. 071703775 H#2017-114
John McMahon, Sheriff-Coroner
San Bernardino County Sheriff-Coroner Department
Sheriff's Public Affairs Division
655 E. Third Street
San Bernardino, California 92415-0061
Telephone: (909) 387-3700