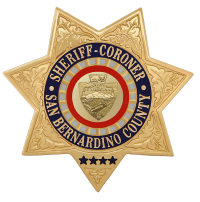 San Bernardino County Sheriff's Department
Press Release
DATE/TIME: January 15, 2017 / 3:12 p.m.
INCIDENT: Juvenile Rescue
LOCATION: 15400 block of Bear Valley Road
Summary
On January 15, 2017, the mother of an 8-year-old boy called to report that her autistic son had fallen into a sink hole and they were unable to get him out.
Deputy Monique Carabajal, from the Victorville Police Department, responded to the apartment complex. The hole was approximately ten feet deep, five feet wide and had an estimated 2 feet of water in the bottom. Carabajal retrieved a swift water rescue rope from her patrol unit and lowered one end down to the boy. She laid at the edge of the hole and instructed him to place the rope around his waist and tie several knots. Carabajal continued to talk to the young victim, keeping him calm until fire personnel arrived on scene to assist. Fire personnel used several additional ropes and together, with Carabajal, pulled the boy from the hole.
The boy was transported to a local hospital to be examined. According to his parents he suffered no injuries.
Employees from the City of Victorville, Public Works Department were contacted to cover the hole. It is unknown at this time how long the hole has existed.
Anyone with information about this investigation is asked to contact the Victorville Police Department at (760) 241-2911. Callers wishing to remain anonymous are urged to call the We-Tip Hotline at 1-800-78CRIME (27463) or you may leave information on the We-Tip website at www.wetip.com.
Refer:Mara Rodriguez, Media Relations Officer
Station: Victorville Police Department
Case #: 171700647
Phone No. (760) 241-2911
John McMahon, Sheriff-Coroner
San Bernardino County Sheriff-Coroner Department
Sheriff's Public Affairs Division
655 E. Third Street
San Bernardino, California 92415-0061
Telephone: (909) 387-3700