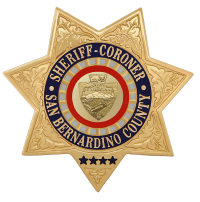 San Bernardino County Sheriff's Department
Press Release
DATE/TIME: January 11, 2017 3:03 p.m.
INCIDENT: Robbery
LOCATION: 15600 block of US Highway 395, Victorville
SUSPECT: Jessica Eckert, 38-year-old, Victorville resident
VICTIM: Hi Desert Truck Stop
Summary
On January 11, 2017, deputies from the Victorville Police Department were dispatched to the area of US Highway 395 and Mojave Drive, for a report of a woman who had just robbed a business and threatened an employee with a knife.
The reporting party stated the suspect, 38-year-old Jessica Eckert, left the business after he confronted her and she threatened him with a knife, causing him to fear for his safety. While still on the phone with Sheriff's Dispatch, he was able to observe the suspect as she crossed the Highway and approached a nearby liquor store. Deputies from the Victorville station and the Victor Valley station arrived a t the liquor store and found the suspect standing outside. Deputy Sarai Evans made contact with the suspect and found the stolen items and the knife still in her possession.
Jessica Eckert was arrested and booked at High Desert Detention Center for Robbery. She is scheduled to appear in Victorville Superior Court on January 13, 2017.
Anyone with information about this investigation is asked to contact the Victorville Police Department at (760) 241-2911. Callers wishing to remain anonymous are urged to call the We-Tip Hotline at 1-800-78CRIME (27463) or you may leave information on the We-Tip website at www.wetip.com.
Refer: Mara Rodriguez, Media Relations Officer
Station: Victorville Police Department
Case #: 171700450
Phone No. (760) 241-2911
John McMahon, Sheriff-Coroner
San Bernardino County Sheriff-Coroner Department
Sheriff's Public Affairs Division
655 E. Third Street
San Bernardino, California 92415-0061
Telephone: (909) 387-3700