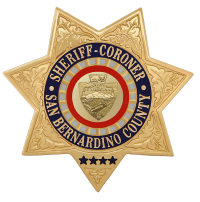 San Bernardino County Sheriff's Department
Press Release
**UPDATE: March 28, 2017
DATE/TIME: March 26, 2017/5:27 pm
INCIDENT: Search for Arrestee
LOCATION: Victorville Police Department
14200 Amargosa Road, Victorville
SUSPECT: Charles Brown, age 31 of Adelanto – BMA – 6'0" tall, 160-170 lbs, short black hair, brown eyes – tattoo of "B" on bridge of nose between eyes
LAST SEEN WEARING – Black Sweats, White Shirt, Black Nike Air Force One Shoes
Summary
UPDATE:
On March 28, 2017, the Victorville Police Department's Gang Team, San Bernardino County Sheriff's Specialized Enforcement Team, and the U.S. Marshall's office conducted a joint operation to locate Charles Brown. Brown was located in Las Vegas, Nevada and taken into custody without incident.
Anyone with information about this investigation is asked to contact the Victorville Police Department at (760) 241-2911. Callers wishing to remain anonymous are urged to call the We-Tip Hotline at 1-800-78CRIME (27463) or you may leave information on the We-Tip website at www.wetip.com.
Refer: Mara Rodriguez, Media Relations Officer
Station: Victorville Police Department
Case #: 171703665
Phone No. (760) 241-2911
******************************************************
On Sunday, March 26, 2017, at approximately 5:27 pm, suspect Charles Brown escaped from the back seat of a marked patrol unit he was in at the Victorville Police Department. Brown fled the area on foot and deputies are asking for the public's assistance in locating him.
Brown was arrested at approximately 4:10 pm for Transportation of Narcotics. Brown was taken to the Victorville Police Department to be interviewed by deputies. Brown was sitting in the back seat and was able to slip one hand out of his handcuffs and exit the patrol car. Deputies immediately began a search of the area with the assistance of a Sheriff's Aviation and a K9 unit. Brown is described as a black male adult, 31 years of age with short black hair and brown eyes with a tattoo of the letter "B" on the bridge of his nose between his eyes. Brown was last seen wearing black sweats, white t-shirt and black Nike Air Force One Shoes.
Anyone with information regarding the whereabouts of Brown is asked to immediately call 911 or Sheriff's Dispatch at (760) 956-5001. Callers wishing to remain anonymous are urged to contact the We-Tip Hotline at 1-800-78-CRIME (27463) or you may leave information on the website at www.wetip.com
Refer: Sergeant Mark Smith
Station: Victorville Police Department
Phone No.: (760) 241-2911
www.nixle.us/99YY4
John McMahon, Sheriff-Coroner
San Bernardino County Sheriff-Coroner Department
Sheriff's Public Affairs Division
655 E. Third Street
San Bernardino, California 92415-0061
Telephone: (909) 387-3700