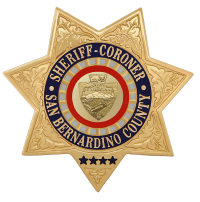 San Bernardino County Sheriff's Department
Press Release
DATE/TIME: January, 12, 2017 / 4:01 p.m.
INCIDENT: Search Warrant-Illegal Marijuana Dispensary / Illegal Cultivation of Marijuana / Illegal Possession of Firearms / Operation of Illegal Honey Oil Lab
LOCATION: 15625 Seventh Street, Victorville
SUSPECT(S): Peter Mattias, 27 years old, of Victorville
Richard Mattias, 32 years old, of Victorville
Summary
Deputies from the Victorville Police Department's Gang Enforcement Team received information reference an illegal marijuana dispensary operating at 15625 Seventh Street. Through investigation, a search warrant was authored for the business.
Coordination was established with City of Victorville Code Enforcement, Southern California Edison and San Bernardino County Sheriff's Marijuana Eradication Team. The search warrant was executed on January 12, 2017. During the service of the search warrant, marijuana packaged and displayed for sale was recovered. In the upper level of the complex investigators located marijuana plants in various stages of growth along with a large amount of US currency. The business also offered marijuana infused edibles and drinks. Additionally, several firearms were located in the business and taken as evidence. The building was not properly permitted and had numerous non permitted alterations to the electrical. The building was "red tagged" and the adjoining business, M&M Smoke Shop, closed until repairs are completed and the building re-inspected.
The owners of the property, Peter Mattias and Richard Mattias, were detained and cited for numerous code violations.
Anyone with information about this investigation is asked to contact the Victorville Police Department at (760) 241-2911 or Sheriff's Gang/Narcotics Division at (909) 890-4840. Callers wishing to remain anonymous are urged to call the We-Tip Hotline at 1-800-78CRIME (27463) or you may leave information on the We-Tip website at www.wetip.com.
To view photos: www.nixle.us/97QTB
Refer: Mara Rodriguez, Media Relations Officer
Station: Victorville Police Department
Case #: 171700524 / 621700022
Phone No. (760) 241-2911
John McMahon, Sheriff-Coroner
San Bernardino County Sheriff-Coroner Department
Sheriff's Public Affairs Division
655 E. Third Street
San Bernardino, California 92415-0061
Telephone: (909) 387-3700