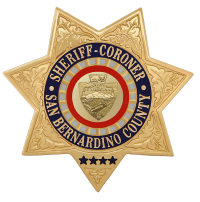 San Bernardino County Sheriff's Department
Press Release
DATE/TIME OF INCIDENT: March 24, 2017, at approximately 7:30 pm
INCIDENT: RAPE OF A MINOR/ PROBATION VIOLATION
SUSPECT(S): Armando Padilla, age 53 of Victorville
Summary
On March 23, 2017, at approximately 11:29 pm, Deputy Molly Leiker responded to St. Mary's Hospital in Apple Valley to interview a 12-year-old female who told medical staff and her family she had been raped.
The juvenile, who was reported in Phelan as a runaway on March 22, 2017, said that after she had run away from her home, she was picked up by the suspect, later identified as Armando Padilla. The victim said Padilla gave her something to drink and then sexually assaulted her. She said she was later able to escape from his residence in Victorville.
Detective Scott Chapdelaine, of the Victor Valley Sheriff's Station, and Detective Dana Weinberg, of the Victorville Police Station, worked together on the case to obtain a search warrant for Padilla's residence. On Friday, March 24, 2017, at approximately 7:30 pm, a search was conducted at Padilla's residence in the 10400 block of Maricopa in Victorville. At the residence, detectives located clothing belonging to the victim and other evidence substantiating the rape.
Armando Padilla was arrested and is currently being held without bail at the High Desert Detention Center.
Anyone with information regarding this crime is urged to contact Detective Scott Chapdelaine at the Victor Valley Sheriff's Station at (760) 552-6801 or Detective Dana Weinberg at the Victorville Police Department at (760)241-2911. Persons wishing to remain anonymous can report information to WeTip by calling 1-800-78-CRIME, or by accessing the website at www.wetip.com.
Refer: Staci Parks
Case #: 171703589
Station: Victor Valley
Phone No: 760-552-6845
John McMahon, Sheriff-Coroner
San Bernardino County Sheriff-Coroner Department
Sheriff's Public Affairs Division
655 E. Third Street
San Bernardino, California 92415-0061
Telephone: (909) 387-3700