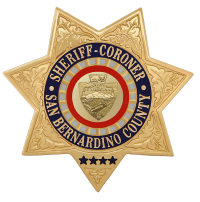 San Bernardino County Sheriff's Department
Press Release
DATE/TIME: January 1, 2017, at approximately 9:15 PM
INCIDENT: Armed Robbery
LOCATION: 1930 Mentone Blvd, Mentone
SUSPECT(S): Unknown white male adult
VICTIM(S): A&W Restaurant
Summary
On January 1, 2017, at approximately 9:15 pm, deputies from the Yucaipa Police Department responded to the A&W Restaurant in the community of Mentone following the report of an armed robbery.
Upon arrival, deputies determined that an unknown white male adult entered the A&W through a back door carrying a handbag and armed with a black handgun. The suspect pointed the handgun at two employees and demanded money to be placed into the bag. The suspect fled with money in a black older model pick-up truck.
Anyone with information about this crime is encouraged to call the Yucaipa Police/Sheriff's Station. Information van be provided anonymously by calling WeTip at 800-78-CRIME/ (800)-782-7463 or by visiting the WeTip website at www.wetip.com.
Refer:Deputy Eric Logo
Station:Yucaipa Station
Phone No.(909) 918-2305
Case No.041700002
John McMahon, Sheriff-Coroner
San Bernardino County Sheriff-Coroner Department
Sheriff's Public Affairs Division
655 E. Third Street
San Bernardino, California 92415-0061
Telephone: (909) 387-3700