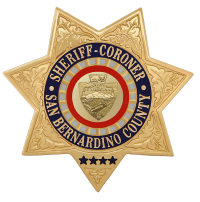 San Bernardino County Sheriff's Department
Press Release
DATE/TIME: December 12, 2017 / 8:21 p.m.
INCIDENT: Commercial Burglary Arrest
LOCATION: 33478 Yucaipa Blvd, Yucaipa
VICTIM: TJ Maxx store, Yucaipa
SUSPECT: Omar Cruz, age 25, San Diego Resident
Summary
On Tuesday, December 12, 2017 Omar Cruz entered the TJ Maxx store and loaded two large rolling suitcases with over $2,000 in merchandise. Cruz exited the store without paying and on the way out he collided into a 15-yr-old juvenile who was walking into the store with his mother. She confronted Cruz over the incident, then the alarm went off and she realized he was stealing the items. Cruz' getaway driver was in a gray 2007 Jeep Grand Cherokee and when they fled from the store, citizens followed them. Cruz made his way to El Pollo Loco where the citizens confronted him. Cruz tried to fight with the 15-yr-old, but was overpowered and Cruz was body slammed on the ground. The citizens held Cruz until deputies arrived. The getaway driver fled the scene.
Omar Cruz was found to be a San Diego resident with a no-bail probation violation warrant from a conviction for possession of stolen property. During the investigation, Deputy Hagen contacted TJ Maxx loss prevention associates who viewed the store security video remotely and identified Cruz as part of a TJ Maxx theft ring whom they've been searching for.
Cruz was booked at Central Detention Center for commercial burglary and his no-bail probation violation warrant.
Refer: Deputy J. Hagen
Station: Yucaipa Sheriff's Station
Phone No. 909-918-2305
Case No. DR #141704015
John McMahon, Sheriff-Coroner
San Bernardino County Sheriff-Coroner Department
Sheriff's Public Affairs Division
655 E. Third Street
San Bernardino, California 92415-0061
Telephone: (909) 387-3700