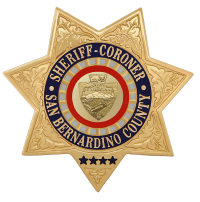 San Bernardino County Sheriff's Department
Press Release
DATE/TIME: March 9, 2017
INCIDENT: PC 273.5 – Domestic Violence
PC 245 – Assault with Deadly Weapon
PC 422 – Criminal Threats
HS 11370.1 – Possess Narcotics while armed with Loaded Firearms
LOCATION: City of Yucaipa
SUSPECTS: Brandon Marsh, 36 year old resident of Yucaipa
David Cash, 50 year old resident of Calimesa
Summary
On Wednesday, March 8, 2017, at about 11:00 PM, Yucaipa Deputies were dispatched to a residence in the City of Yucaipa, for an assault. Deputies arrived and spoke with the two victims, who said Brandon Marsh forced his way into the residence, while armed with a knife. Marsh attacked the female victim with the knife and assaulted her. The male victim intervened and attempted to stop the attack. Marsh then physically assaulted the 63 year man. Both victims sustained minor injuries as a result of the attack. Marsh fled the location prior to the arrival of deputies.
During the investigation, it was learned that Marsh may have fled to the Mentone area, where he allegedly assaulted and stabbed another victim. However, that victim has not reported the incident.
Yucaipa Sheriff's Detectives and members of the Sheriff's Specialized Enforcement Division began to look for Marsh. As a result of their investigation, Marsh was located at a residence in the 900 Block of 3rd Street in the City of Calimesa. Investigators also contacted David Cash at that location, who was allowing Marsh to hide there. A search warrant was served at that residence, where Investigators located five rifles, two shotguns, 4 semi-auto handguns, two Assault Rifles, and a large amount of ammunition for these various weapons. Investigators also located a useable amount of methamphetamine with these weapons.
Both suspects were arrested and booked at the West Valley Detention Center. Marsh is being held on all of the above charges, his bail is set at $1,200,000. Cash is being held on HS 11370.1, his bail is set at $60,000. Both are scheduled to be arraigned in San Bernardino Superior Court on Monday, March 13, 2017.
Brandon Marsh's booking photo is being released, detectives believe there may be additional victims who were assaulted by Brandon Marsh and may be afraid to come forward.
Anyone who may have been a victim, or anyone with information about this case is urged to contact the Yucaipa Police Department – Detective Division. If you choose to remain anonymous, call We-Tip at 1-800-78-CRIME.
Booking photo available:
https://local.nixle.com/alert/5871899/
Refer: Detective Donald Patton
Station: Yucaipa Station
Phone No: (909) 918-2305 
Case No: 141700779
John McMahon, Sheriff-Coroner
San Bernardino County Sheriff-Coroner Department
Sheriff's Public Affairs Division
655 E. Third Street
San Bernardino, California 92415-0061
Telephone: (909) 387-3700