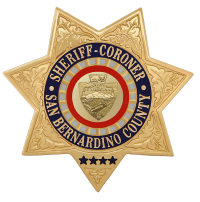 San Bernardino County Sheriff's Department
Press Release
DATE/TIME:  April 5, 2017
INCIDENT:   Incident
LOCATION:  Stater Bros. 34460 Yucaipa Blvd, City of Yucaipa
Summary
On Wednesday, April 5, 2017, Yucaipa Police were notified of an incident that occurred inside the Stater Bros Market located at 34460 Yucaipa Blvd in the City of Yucaipa. The reporting party believed that two men were talking about taking her young daughter. Deputies immediately responded to the location and conducted a thorough investigation. Deputies spoke with the reporting party and bystanders and reviewed surveillance video.
As a result of their investigation, investigators have determined that no attempted kidnapping occurred.
Yucaipa Police is fully dedicated to protecting the citizens and visitors of the City of Yucaipa and encourage citizens to report any suspicious activity that they see or hear.
To report non-emergencies or suspicious activity, citizens can contact sheriff's dispatch at (909) 790-3100, or call 911 in the event of an emergency. If you choose to remain anonymous, call We Tip at 1-800-78-CRIME.
Refer:      Yucaipa Police Department
Phone No:   (909) 918-2305
Case No:   141701141
John McMahon, Sheriff-Coroner
San Bernardino County Sheriff-Coroner Department
Sheriff's Public Affairs Division
655 E. Third Street
San Bernardino, California 92415-0061
Telephone: (909) 387-3700