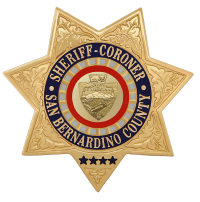 San Bernardino County Sheriff's Department
Press Release
DATE/TIME: March 30, 2017
INCIDENT: PC 496 (a) – Possess Stolen Property
PC 182 (a) (1) – Conspiracy to Commit a Crime / Theft
LOCATION: City of Yucaipa
SUSPECTS:Jesse Delorbe, 30 years old, resident of Yucaipa
                     Sarah Bartsch, 27 years old, resident of San Jacinto
Summary
On Thursday, March 30, 2017, Deputies from the Riverside County Sheriff's Department – Calimesa Station, conducted a traffic stop on a vehicle in the City of Calimesa. They contacted Delorbe and Bartsch in that vehicle.
During a search of their vehicle, Deputies located numerous items of stolen US Mail and various packages, which were addressed to various residents within the City of Yucaipa. Deputies from the Calimesa Sheriff's Station contacted Detectives at the Yucaipa Police Department. Yucaipa Police deputies and detectives responded to their scene and conducted further investigation.
Using surveillance video from the victim's residences, deputies were able to link both Delorbe and Barstch to several thefts throughout the city of Yucaipa. At this time, all known victims have been contacted for all the property recovered from their vehicle.
Both suspects were arrested and booked into the Central Detention Center. Bail was set at $35,000 for Delorbe and Bartsch has bail set at $120,000.
Detectives are releasing photos of both suspects, as they believe they may have been involved in other thefts throughout the city of Calimesa and Yucaipa.
Anyone who may have information about this case is urged to contact the Yucaipa Police Department – Detective Division. If you choose to remain anonymous, call WeTip at 1-800-78-CRIME.
To view photos: www.nixle.us/9A4FY
Refer: Deputy E. Lugo / Detective Donald Patton
Station: Yucaipa Station
Phone No: (909) 918-2305
Case No: 141701033
John McMahon, Sheriff-Coroner
San Bernardino County Sheriff-Coroner Department
Sheriff's Public Affairs Division
655 E. Third Street
San Bernardino, California 92415-0061
Telephone: (909) 387-3700