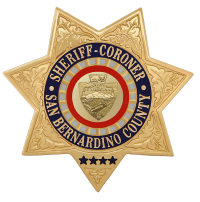 San Bernardino County Sheriff's Department
Press Release
DATE/TIME: Thursday, January 5, 2017 / 1:55 a.m.
INCIDENT: PC 496 – Possession of Stolen Property-Arrest
LOCATION: 35000 block of Mountain View Lane, Yucaipa
SUSPECT: Joshua Metz age 29, a resident of Yucaipa
VICTIM(S): Confidential
Summary
On Thursday, January 5th, at approximately 1:-55 a.m., a deputy from the Yucaipa Police Department on routine patrol noticed a male subject sitting in a vehicle in front of a residence on Mountain View Lane. The subject was identified as Joshua Metz. Metz was detained and arrested for an outstanding $100,000.00 warrant for Possession of Stolen Property. The vehicle Metz was driving had paper dealership plates and a records check of the vehicle identification number revealed the car was stolen out of Lake Havasu, Arizona. Other stolen property was recovered within the vehicles interior, clearing a vehicle burglary in Redlands. Metz was arrested and booked at the Central Detention Center for the above charges and warrant.
Anyone with information about this crime is encouraged to call the Yucaipa Police/Sheriff's Department Investigations Bureau at 909-918-2305. Information can be provided anonymously by calling WeTip at 800-78-CRIME (800-782-7463) or by visiting the WeTip website at www.wetip.com.
Refer:Deputy Michael Rose / Sergeannt Jon Minard
Station:Yucaipa Station
Phone No.909-918-2305
Case No.141700055
John McMahon, Sheriff-Coroner
San Bernardino County Sheriff-Coroner Department
Sheriff's Public Affairs Division
655 E. Third Street
San Bernardino, California 92415-0061
Telephone: (909) 387-3700