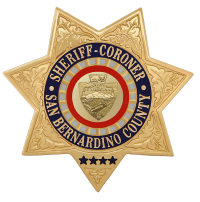 San Bernardino County Sheriff's Department
Press Release
DATE/TIME: January 10, 2017 / 11:00 am
INCIDENT: PC 212.5 – Residential Robbery
LOCATION: 36000 Block of Wildwood Canyon Road, City of Yucaipa
SUSPECT(S): Anthony Patchin age 27 – Banning
VICTIM(S): Confidential
Summary
On January 4, 2017, a Yucaipa resident arrived home to find an unknown suspect inside his home, stealing property. The victim chased the suspect outside the home to confront him and was assaulted during that confrontation. Paramedics responded to the scene and treated the victim for minor injuries. 
Through investigation Yucaipa deputies identified the suspect as Anthony Patchin. Yucaipa Detectives were able to obtain a warrant for Anthony Patchin and on January 10th, Patchin was located and arrested in the Bakersfield area. He is being held on the residential robbery charge in lieu of $500,000 bail.
Anyone with additional information regarding this incident is asked to contact the detective bureau at the Yucaipa Police Department. Callers wishing to remain anonymous are urged to contact the We-Tip Hotline at 1-800-78-CRIME (27463) or you may leave information on the We-Tip website at www.wetip.com.
Refer:Det. Jason Costa
Station:Yucaipa Police Department
Phone No.(909) 918-2305
Case No.141700051
John McMahon, Sheriff-Coroner
San Bernardino County Sheriff-Coroner Department
Sheriff's Public Affairs Division
655 E. Third Street
San Bernardino, California 92415-0061
Telephone: (909) 387-3700