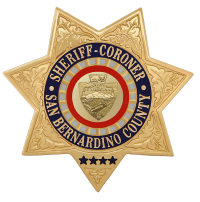 San Bernardino County Sheriff's Department
Press Release
DATE: March 17, 2017
INCIDENT: HS 11351 – Possession of Narcotics for Sales
PC 182 – Conspiracy to Commit Crime
HS 11378 – Possess Controlled Substances for Sale
PC 186.22 – Criminal Street Gang Terrorism
PC 33215 – Manufacture Shotgun
LOCATION: 12400 Block 4th Street, City of Yucaipa
SUSPECTS:Dale Viestenz, 34 years old, resident of Yucaipa
                     Lexy Shay, 27 years old, resident of Yucaipa
                     David Johnson, 31 years old, resident of Yucaipa
Summary
Over the past two weeks, Yucaipa Police received information that the suspects were involved in the sales of weapons and narcotics. All three suspects live in a mobile home park within the 12400 Block of 4th Street in the City of Yucaipa. Viestenz lives alone in one mobile home. Shay and Johnson live together in another mobile home directly across from Viestenz.
On Friday, March 17, 2017, Yucaipa Sheriff's Deputies from the station MET Team & Detectives, and officers from the Redlands Police Department served search warrants at both residences. During a search of the home of Johnson and Shay, they located a large amount of suspected heroin, a large amount of US Currency, and several items indicative of sales.
During a search of the residence belonging to Viestenz, they located a large amount of suspected methamphetamine, and items indicative of sales. Investigators also located several weapons, including a homemade shotgun that had been manufactured from various pieces of metal.
Viestenz is a documented criminal street gang member from a gang in the City of San Bernardino.
Viestenz was arrested for HS 11378, and PC 33215. Shay and Johnson were arrested for HS 11351, PC 182. All 3 suspects were arrested and booked into the West Valley Detention Center. Viestenz is being held in lieu $ 100,000 Bail. Shay and Johnson are being held in lieu of $50,000 Bail.
Anyone who may have information about this case is urged to contact the Yucaipa Police Department – MET Team. If you choose to remain anonymous, call WeTip at 1-800-78-CRIME.
Refer: Deputy Jeff McDaniel
Station: Yucaipa Station
Phone No: (909) 918-2305
Case No: 141700872 & 141700873
John McMahon, Sheriff-Coroner
San Bernardino County Sheriff-Coroner Department
Sheriff's Public Affairs Division
655 E. Third Street
San Bernardino, California 92415-0061
Telephone: (909) 387-3700