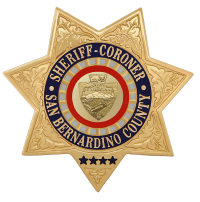 San Bernardino County Sheriff's Department
Press Release
DATE/TIME: December 13, 2017, 9:10 p.m.
INCIDENT: Single Vehicle Minor Injury Traffic Collision
LOCATION: Highway 62/ Elk Trail, Yucca Valley
INVOLVED PARTIES: Aijon Carrllo, 21 years old, resident of Twentynine Palms
Heidi Romo, 20 years old, resident of Twentynine Palms
Summary
On Wednesday, December 13, 2017, at about 9:10 p.m., deputies from the Morongo Basin Sheriff's Station responded to Elk Trail and Highway 62, in the town of Yucca Valley, to investigate the report of a traffic collision involving a single vehicle. The investigation revealed the driver of the vehicle, Aijon Carrllo, fell asleep at the wheel traveling eastbound on Highway 62.
The vehicle struck a light pole that was completely ripped out of the ground. The outer eastbound lane was temporarily closed to traffic due to a low voltage wire and debris in the lane awaiting repair crews. The vehicle continued past the light pole and struck a fence in front of Diamond Automotive. The vehicle came to a stop in front of the business, but not before causing minor damage to three vehicles that were being serviced. The owner of Diamond Automotive was notified of the collision and damage to his property and customer's vehicles.
Carrllo and his passenger, Heidi Romo were transported by ambulance to Hi-Desert Medical Center for treatment of their injuries.
Anyone with information regarding this case is urged to contact the Morongo Basin Station at (760)366-4175. Callers wishing to remain anonymous are urged to call the We-tip Hotline at 1-800-78-CRIME (27463), or you may leave information on the We-Tip Hotline at www.wetip.com.
Refer: R. Perry, Deputy Sheriff
Station: Morongo Basin Station
Case #: 231702338
Phone No. (760) 366-4175
John McMahon, Sheriff-Coroner
San Bernardino County Sheriff-Coroner Department
Sheriff's Public Affairs Division
655 E. Third Street
San Bernardino, California 92415-0061
Telephone: (909) 387-3700