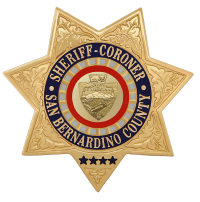 San Bernardino County Sheriff's Department
Press Release
DATE/TIME: February 15, 2018
INCIDENT: Search Warrant and Arrests for Possession of Stolen Property, Possession of a Loaded Firearm and Possession of Cocaine
LOCATION: Pomona, Rancho Cucamonga, San Bernardino and Beaumont
SUSPECT(S): Dominque Harges 29 year old resident of Rancho Cucamonga
Francisco Garcia, 38 year old resident of Beaumont
Joseph Bennett, 27 year old resident of Pomona
VICTIM(S): Nordstrom's Distribution Center
Summary
Deputies from the Fontana Sheriff's Station responded to a Grand Theft investigation approximately three weeks ago. Deputy D. Beare determined employees from the Nordstrom's Distribution Center were involved in an extensive theft scheme. The thieves stole high-end merchandise from clothing to watches from the distribution center. After each theft, the suspects advertised the stolen goods on a public auction site and sold items at a fraction of the retail cost. Nordstrom's loss prevention personnel determined those thefts exceeded $200,000.
On Thursday, Deputy Beare and members of the Criminal Investigations Division, executed multiple search and arrest warrants from Pomona to Beaumont. Sheriff's personnel recovered over $100,000 in stolen merchandise. Deputies also recovered stolen firearms, narcotics, body armor, and an undisclosed amount of cash, which was determined to be proceeds from the stolen merchandise.
Dominique Harges and Francisco Garcia were arrested on multiple counts including Felon in Possession of a Firearm, Conspiracy to Commit Commercial Burglary and Grand Theft, and Possession of Stolen Property, they were booked at the West Valley Detention Center and are awaiting arraignment. Suspect Joseph Bennett is still outstanding and a warrant for his arrest was issued.
If anyone has any information regarding this investigation, please contact Deputy D. Beare of the Fontana Sheriff's Station at (909) 356-6767. If you wish to remain anonymous and would like to provide information to law enforcement, you are welcome to contact the We-Tip Hotline at 1 (800) 782-7463 (1-800-78-CRIME) or on-line at www.wetip.com.
Refer: Deputy D. Beare/Detective E.Lugo
Station: Fontana Station
Phone No. 909-356-6767
Case No. 031800228
John McMahon, Sheriff-Coroner
San Bernardino County Sheriff-Coroner Department
Sheriff's Public Affairs Division
655 E. Third Street
San Bernardino, California 92415-0061
Telephone: (909) 387-3700