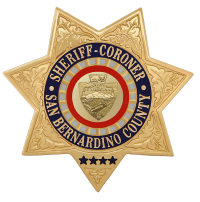 San Bernardino County Sheriff's Department
Press Release
DATE/TIME:January 10, 2018/ 6:00 p.m.
INCIDENT:Attempt Kidnapping
LOCATION:12700 block of Foothill Blvd., Rancho Cucamonga
VICTIM:11-year-old female
Summary
On January 10, 2018 at 6:00 p.m., deputies from the Rancho Cucamonga Police Department responded to Sacred Heart School regarding an attempted kidnapping of a female juvenile.
Through further investigation, deputies learned an unknown suspect grabbed hold of her and the victim was able to fight offthe suspect by using her feet. The suspect ran away on foot from the school property.
The victim was able to tell deputies the suspect was a male about 6'2", but could not give a specific race. The victim provided a limited clothing description of the suspect wearing a red hooded sweater with a black sweater on top of the red one and blackpants.
Deputies conducted an extensive search, utilizing available personnel and K-9's but were unable to locate the suspect.
Anyone with information regarding this investigation is urged to contact the Rancho Cucamonga Station at (909)477-2800. Callers wishing to remain anonymous are urged to call the We-tip Hotline at 1-800-78-CRIME (27463) or you may leave information on the We-Tip Hotline at www.wetip.com.
Refer: Deputy Bogdan Nastase
Station:Rancho Cucamonga
Phone No. (909)477-2800
Case No.111800408
John McMahon, Sheriff-Coroner
San Bernardino County Sheriff-Coroner Department
Sheriff's Public Affairs Division
655 E. Third Street
San Bernardino, California 92415-0061
Telephone: (909) 387-3700