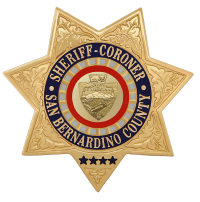 San Bernardino County Sheriff's Department
Press Release
DATE: December 29, 2017
INCIDENT: Burglary/Search Warrant
LOCATION: Target, 10576 Foothill Boulevard, Rancho Cucamonga
SUSPECT(S): Esperanza Castro, 66 years-old from Huntington Park
Juan Antonio Ruiz Castro, 34 years-old from Huntington Park
Martha Martinez Hernandez, 66 years-old from Huntington Park
Summary
Deputy Daniel Lopez from the Rancho Cucamonga Police Department and Target's Asset Protection Team have worked closely over the course of several months, to identify and locate suspects associated with stolen televisions from stores throughout Southern California. The suspects stole over $75,000 in televisions. Several televisions were stolen, while others were placed in television boxes not belonging to the item and returned for profit.
During the investigation, Deputy Lopez identified three suspects; Esperanza Castro, Juan Ruiz and Martha Hernandez as the suspects associated with the thefts at Target. Deputies served a search warrant at the suspects' residence in Huntington Park, where they seized 15 large HD televisions located throughout the property. A firearm was also located and seized.
Castro was subsequently arrested at her residence following the search warrant. Castro was transported and booked into West Valley Detention Center with bail set at $50,000. Ruiz and Hernandez are still outstanding and have active warrants for the thefts.
Esperanza Castro's booking photo is attached and anyone with information regarding this investigation is urged to contact Deputy Daniel Lopez at (909)477-2828. Callers wishing to remain anonymous are urged to call the We-tip Hotline at 1-800-78-CRIME (27463) or you may leave information on the We-Tip Hotline at www.wetip.com.
Refer: Deputy Daniel Lopez
Station: Rancho Cucamonga
Phone No. (909)477-2828
Case No. 111716484
John McMahon, Sheriff-Coroner
San Bernardino County Sheriff-Coroner Department
Sheriff's Public Affairs Division
655 E. Third Street
San Bernardino, California 92415-0061
Telephone: (909) 387-3700