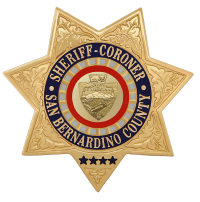 San Bernardino County Sheriff's Department
Press Release
DATE: February 26, 2018/ 1:36 a.m.
INCIDENT: Burglary
Burglary Tools
Possession of Unlawful Paraphernalia
Possession of a Controlled Substance
Parole Violation
LOCATION: Haven Avenue and Town Center Drive, Rancho Cucamonga
SUSPECT: Mark Philip Mettias, 27 year-old from Fontana
Madison Claire Timoteo, 24 year-old from Upland
Summary
On February 26, 2018, at 1:36 a.m., deputies from the Rancho Cucamonga Police Department responded to the area of Haven Avenue and Town Center Drive regarding suspicious activity. Deputies were advised a white male adult and a white female adult wearing ski masks were circling the area in a black Jeep.
Deputies located the parked vehicle and made contact with Timoteo, one of the occupants. Mettias was contacted after he was found hiding behind a pillar. Both subjects were detained for the investigation. During the investigation, deputies learned Deer Creek Vision Center had the front door to the business smashed out. Black masks, a pellet gun, multiple burglary tools and stolen items were located inside of the suspect vehicle.
Timoteo and Mettias were identified as the suspects associated with the crime and were taken into custody. Timoteo and Mettias were arrested and booked into West Valley Detention Center. The bail for Mettias is $55,000.
Anyone with information regarding this investigation is urged to contact the Rancho Cucamonga Police Department. Callers wishing to remain anonymous are urged to call the We-tip Hotline at 1-800-78-CRIME (27463), or you may leave information at www.wetip.com.
Refer: Deputy Garcia-Chavez
Station: Rancho Cucamonga
Phone No. (909)477-2800
Report: 111802498
John McMahon, Sheriff-Coroner
San Bernardino County Sheriff-Coroner Department
Sheriff's Public Affairs Division
655 E. Third Street
San Bernardino, California 92415-0061
Telephone: (909) 387-3700