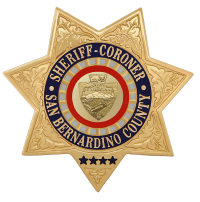 San Bernardino County Sheriff's Department
Press Release
DATE: February 13, 2018/ 1:53 p.m.
INCIDENT: Burglary
Vandalism
Possession of a Firearm by a Felon
Possession of Ammunition by a Felon
LOCATION: 7700 block of Victoria Gardens Lane, Rancho Cucamonga
SUSPECT: Marcus Anthony Newman, 27-year-old from San Bernardino
Summary
On February 13, 2018, at 1:53 p.m., Deputies Alvarado and D. Lopez from the Rancho Cucamonga Police Department responded to the parking lot of Bass Pro Shop regarding a vehicle burglary. The unknown suspect forced entry into the victim's vehicle and stole the radio. During the investigation, deputies learned Newman was the suspect who burglarized the victim's car.
On February 23, 2018, deputies from the MET Division and Parole assisted Deputies Alvarado and D. Lopez with the investigation and Newman's apprehension. Newman was contacted at his residence in the City of San Bernardino. During a search of the Newman's vehicle, deputies located a safe containing a loaded firearm not registered to him. The firearm was ceased for evidence.
Newman was arrested and booked into West Valley Detention Center with a bail of $50,000. Additionally, Newman was also booked for a warrant.
Anyone with information regarding this investigation is urged to contact the Rancho Cucamonga Police Department. Callers wishing to remain anonymous are urged to call the We-tip Hotline at 1-800-78-CRIME (27463), or you may leave information at www.wetip.com.
Refer: Deputy Alvarado and Deputy D. Lopez
Station: Rancho Cucamonga
Phone No. (909)477-2800
Report: 111810939
111802390
John McMahon, Sheriff-Coroner
San Bernardino County Sheriff-Coroner Department
Sheriff's Public Affairs Division
655 E. Third Street
San Bernardino, California 92415-0061
Telephone: (909) 387-3700